Update: Personally, I believe building a super fast computer for rendering is outdated. Today's computing power is more than enough to render a really good rendering. Think about it, if 3D artists are able to create awesome realistic 3D rendering 10 years ago, what about today's computing powers at your disposable? I prefer buying a ready made gaming station, here are 5 gaming desktop:
Acer Predator
Asus ROG
Dell Alienware
Falcon Mach
Not all desktops are made to perform the same, obviously the more RAM and processing speed the faster it is. Here are a few technical items you will have to look out:
Dual or Quad Graphic Cards, avoid Single Graphic Card.
If possible, go for dual channel 16GB or 32GB RAM. Avoid single channel RAM.
Processor is now used to run the application, but rendering with 4 graphic card is the way to render now.
Use SSD Hard Disk, avoid SATA Hard Disk. SSD is way faster.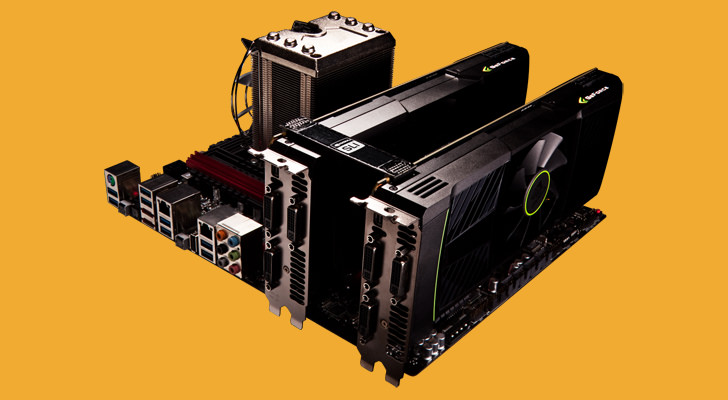 Previous Article (Outdated)
就像所有的硬核游戏玩家一样,当涉及到3d渲染时,任何建筑专业的学生对处理能力的渴望都是不够的。我老板想买市场上最好的电脑,问我是英特尔至强更好还是奔腾酷睿2 Duo更好?好的显卡会加快渲染时间吗?
I was speechless for a moment, no one asked me about this before and the truth is, I don't know. So, like my usual self, I searched on the mountain and in the valleys; neither in the heights nor in the depths… I questioned the scholars and philosophers, but he was beyond their understanding….Well, not really. What I did was simply launch my msn and chat with Mr.J from Metamosaic.com – Ex-lecturer of Limkokwing University.
Q: Which is the best processor for 3D rendering?
A: The most expensive in the market.
Q: Will a good graphic card speed up the rendering time?
A: What is a graphic card?
Q: Are you gay and lonely?
A: Am I?
Okay, was joking about those Q&A thing. I did ask him about processor and graphic cards, now according to him Xeon is better than Pentium and a good graphic card will not speed up the rendering time but speed up the preview time during modeling. So I went and do some research online for more information, and went to my usual favorite computer website – Toms Hardware.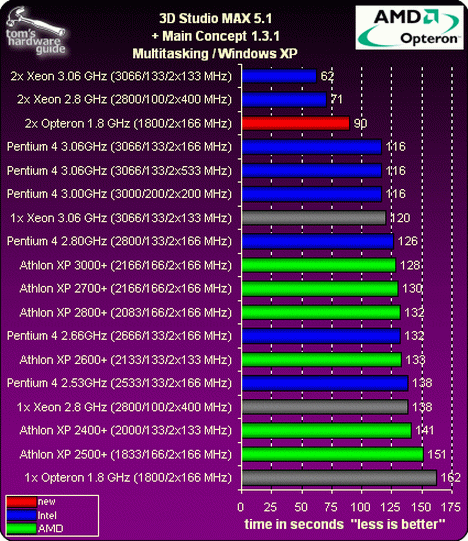 According to the benchmark (kind of old already), Xeon outperform all the other processor and what really make this Xeon so powerful? What is the technology behind it? Xeon is a 64bit processor, and comes with a 16M L3 cache. Pentium on the other hand is 32bit (newer models now comes with 64bit) and spot a 2MB – 4MB L1 and L2 cache. A lot of people are confuse about what makes a processor fast, most the buyers tend to go for faster processing speed thinking that a faster processor means that its better, which turn out to be wrong. Do you know that the current Core 2 Duo has a 1.86 GHz processor but able to out perform a single core 3 GHz processor by 70% and consume 50% less watt.
当涉及到处理器,注意FSB(前端总线),32位或64位和L2缓存。通过观察GHZ来测量计算机速度是行不通的。现在我们知道,至强处理器是更好的渲染处理器,如果你碰巧有钱,就去买一个吧——记住,至强处理器使用不同类型的主板,可能需要高端内存,这将进一步消耗你的钱包。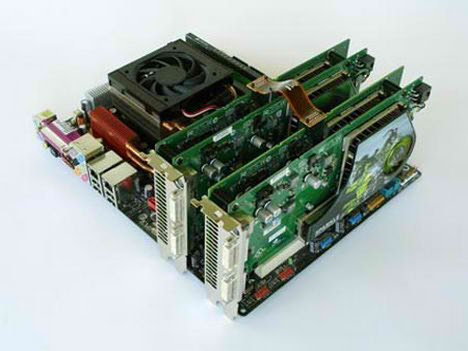 说到图形卡,你知道他们为CAD操作人员准备的工作站CAD图形卡吗?比较一下主流显卡和工作站显卡,现在的显卡只专注于在高要求的游戏中获得更高的fps分数,它们被设计成专注于direct3d应用,比如90%的游戏。然而,工作站显卡由于稳定性的原因而时钟较慢,并且主要集中在OpenGL应用程序上。其中一些是优化的,并携带专门的3dsmax和Maya插件。底线是你需要一个1000美元的显卡只是为了渲染?如果你不太确定这些工作站显卡,那么去买一个SLi显卡。
I'm not so concern about all these processing speed and so on, you can get the best computer money can buy, the real question is do you have the expertise to fully utilize the equipment?